This series of cook-outs is a great example of local partnership working: they're held at Belhaven Community Garden, which is run by Sustaining Dunbar. The Local Good Food Alliance was successful in applying for funding to Dunbar & East Linton Area Partnership, and they are also part-funded and hosted by the Community Carrot, whose Development Officer Hannah Ewan leads the sessions.
Hannah Ewan re-caps the first three cook-outs
With indoor cooking classes cancelled for a year, this has been the perfect time to introduce more people to the beautiful community garden and show just how easy and fun cooking over an open fire can be.
So far we've had three family sessions, designed around the relevant Covid-19 restrictions. Each see two households meeting up, and for the last one we could have only two adults present. My six-year-old daughter loves getting to attend each time; she's getting very confident around the fire pit! The children take the lead in the chopping, mixing and egg-cracking, and get the chance to safely stir the pots on the fire. We generally cook three dishes – these have included burritos and guacamole; baked apples; pasta; cheese bannocks; and each time we make little frying-pan cakes in cookie cutters, which shape them as they cook.
Each cook-out we take a walk through the gardens to see what we can pick to use in our cooking. We're now in the 'hungry gap' so there's little to harvest, but for the first session we found herbs, a leek, picked apples from one of the garden's many fruit trees, and some tomatoes and grapes from the polytunnel. We also used a beautiful crown prince pumpkin grown in the garden to make pumpkin orzo pasta. However even in the later sessions we have managed to pick chard and herbs.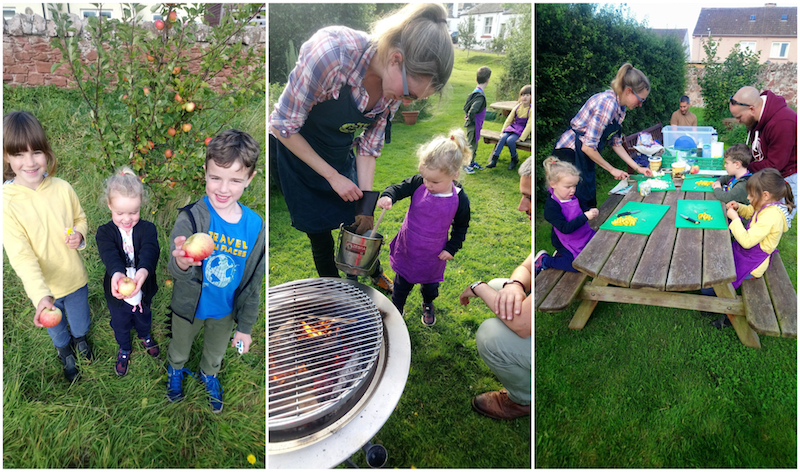 We follow the same rules as I use in my KidsFoodJourney workshops at Dunbar Primary School – this is the food explorer club I run to get children familiar and excited about a varied diet, fruit and vegetables. Children are encouraged to try all the foods but don't have to, and there are no expectations that anyone will finish or like anything. They all love getting involved in the cooking, and are far more likely to give everything a go when they've had a hand in making it – everyone so far has tried everything, and parents are often surprised by what their children will taste and enjoy.
Our second session was a great example of the simple power of familiarity when it comes to what children will tuck in to. This was a skill-swap session with Sara, who is a fantastic cook with a repertoire of beautiful Syrian dishes that she learnt from her mother. She taught me how to make yoghurt pasta and tabbouleh, and in return I demonstrated cheese bannocks, spiced fire cakes and baked apples stuffed with dried fruit. My daughter happily tucked into what are essentially cheese scones, fruit cake and cooked apple, and Sara's daughter loved the pasta and tabbouleh – but not vice versa! We talked about how sometimes we need to try different foods lots of times before we learn to like them, and how many foods are an acquired taste. Sara's dishes were delicious and I will definitely be making them again at home.
We have four more sessions coming up, but I hope to be able to continue to run fire cook-outs beyond that, ideally with more children and their parents able to attend. I think it's important for parents to come along as it's often a nice surprise for them to see their children engaging so enthusiastically with the garden, with cooking and with fruit and veg. We've been very lucky with the weather so far, and I'm looking forward to having a wider range of garden produce to call on in our menus.
We've had some lovely feedback from the families who have attended our cook-outs:
"Our time as a family cooking at Belhaven Community Garden with Hannah was absolutely fantastic and I cannot recommend it enough. Not only did my 3 and 5 year olds get to cut vegetables by themselves for the first time, but they took great pride in cooking the entire meal. What a treasure the community garden is, I had no idea it was there. I watched with great hilarity as my children learned about herbs which they picked prepared and taste tested…..queue the funny faces! It was the ultimate family activity afternoon out with the added bonus of being fed at the end. In these uncertain times it was nice to discover something new on our doorstep. Hannah's enthusiasm for children finding passion for food and cooking is evident. Her delivery is perfectly pitched." Mel
"I enjoyed cooking so much with Hannah today. We had a great time, she is a very nice woman and she cooked some traditional Scottish food for me, and I cooked some Syrian food. I was very happy when I finished cooking and Hannah liked the taste, it was a really great experience." Sara
"Firstly I would like to say a huge thank you for the outdoor cooking experience for Abbie. It has been such a positive experience for her! She has learned some new skills and has been inspired to give cooking a try herself. Abbie enjoyed tasting new foods she has not had before and is looking forward to making them at home and sharing with her brothers. She loved the peacefulness of the gardens and looking at what is growing in the garden. The whole experience in Abbie's words was "awesome!"." Dawn