In the middle of the strange summer of 2020, I was invited to join the Sustaining Dunbar team to help develop a new project called "What If?"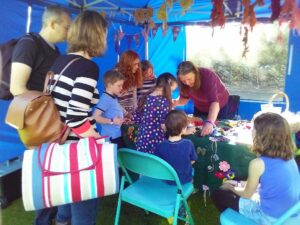 As it happened, I just completed reading the inspirational Rob Hopkins book of the same title. It felt rather serendipitous – I was ready to go! If you ever crave something motivating, bursting of possibilities and unleashing imagination at every page turn, this book is for you.
The What If? project was born out of a strong conviction that we, lucky to live in Dunbar, East Linton or the surrounding villages, seem to recognise the power of community and passionately want the community and area to thrive.
We have dozens of voluntary groups which make a tangible difference and hundreds of people who are ready to share their expertise, ideas and time to make things better for others. We have an incredibly beautiful coast, fresh air and so many local attractions we could never go anywhere else and yet find enough to explore on the doorstep.
Having said all that, sometimes there's so much happening that it's easy to forget to share with others who may be doing similar things in parallel, blissfully unaware of duplication. What If? Network has been created to help interconnect those people, projects and hopes and find imaginative ways of doing things together.
As I write this, more emails arrive to my inbox with requests to join the network. Our Members include local fishermen, artists, volunteer gardeners, enthusiastic chefs, poets who work in local grocers, members of various churches and many more.
We talk, write emails, meet in gardens and parks (and Zoom!), exchange ideas, plot new projects, discuss hopes and dreams, support one another. If you'd like to join us, do get in touch!
Ola Wojtkiewicz, Community Engagement Manager, Sustaining Dunbar ola@sustainingdunbar.org